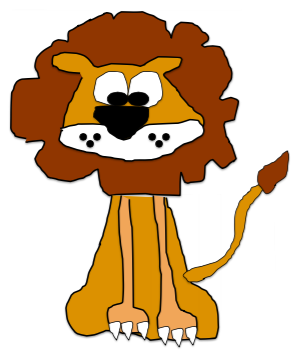 Common Name:
Lion
Scientific Name:

Panthera leo
Age:
6
Weight:
74

lbs
Height:
30

inches
Symptoms: stomachaches, headaches, nervousness
About Leopold L.
Leopold L. was born just outside of Rodentia, USA and is in the first grade at Rodentia Elementary School. He lives at home with his mother and father. Leopold was very happy staying at home with his mother for the first five years of his life. Naturally, he was quite upset when he had to start school.
Leopold's mother told Dr. Woodchuck about Leopold's daily stomachaches. Dr. Woodchuck suspected that Leopold's mother was right and the stomachaches were because of Leopold's nervousness and worries. In therapy, Leopold began talking to Dr. Woodchuck about his biggest worry: that something terrible is going to happen to his mother while he is at school. Leopold feels that if he is at home, he can take care of his mother and make sure she is okay. Dr. Woodchuck has been helping Leopold with the idea that his mother can take care of herself and that Leopold does not need to take care of her. Dr. Woodchuck has been working with Leopold's mother so she can also reassure Leopold that she will be okay.
Leopold enjoys putting on temporary tattoos. He also likes to take his time peeling his string cheese.